Voltax: How to Make the Most of Minute Media's Video Management System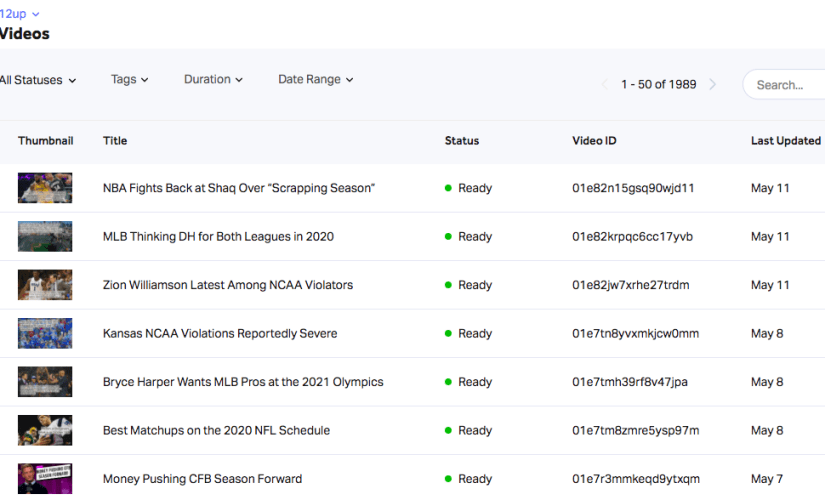 When choosing the right Online Video Platform for your business, it's important to make sure certain basic features and functionalities are provided. In this regard, Minute Media's Video Management System ticks all the boxes. Users are able to upload, manage and distribute video content intuitively and without hassle. Below, you will find an overview of all key VMS features and a short guide on how to use them.
Upload and Overview Your Content
The video library gives you an overview of all videos currently available in your organization. All uploaded and imported videos will be available for you to manage directly within the library. From here, you can also embed, delete and customize each piece of content. Additionally, you'll have the option to upload video content straight from your computer or directly from their URLs.
To help you manage and organize your content, we have developed advanced search and filtering options which allow you to sort by status, tag, duration and date range.
Our VMS enables you to customize the basic information, metadata and restrictions for each video. We recommend using comprehensive words for title, description and tags to maximize transparency within your organization and improve contextual matching results.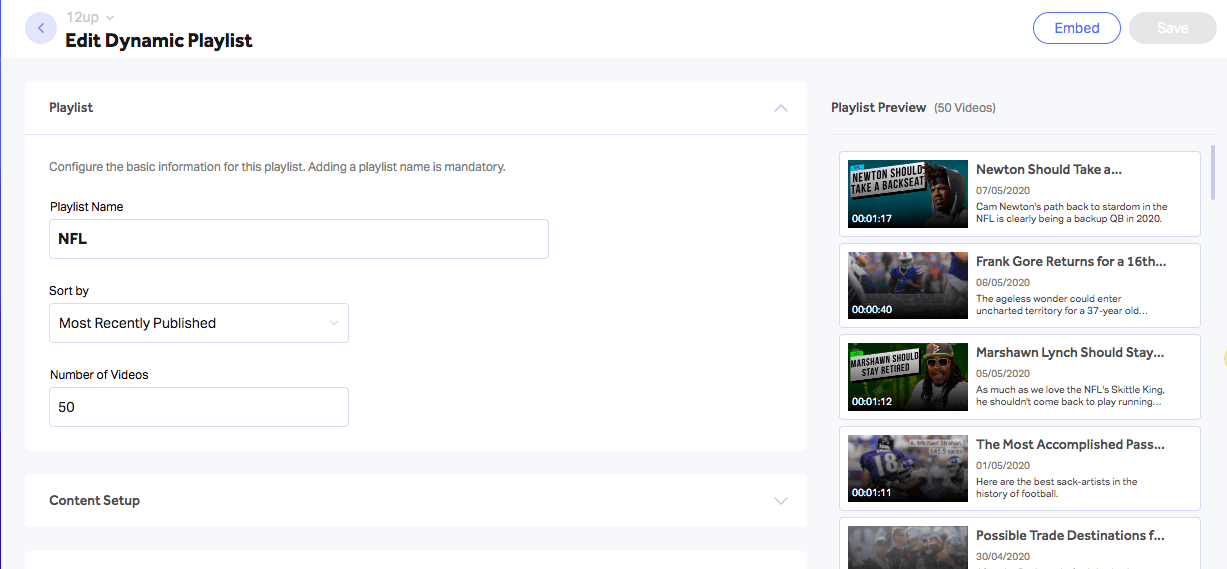 Manage Your Playlists
You have the ability to fully create and manage two types of playlists: Dynamic and Freestyle. The Dynamic, tag-based playlist, allows you to sort content according to tags. The Freestyle playlist gives you full control over what content you want to appear in whatever order you choose.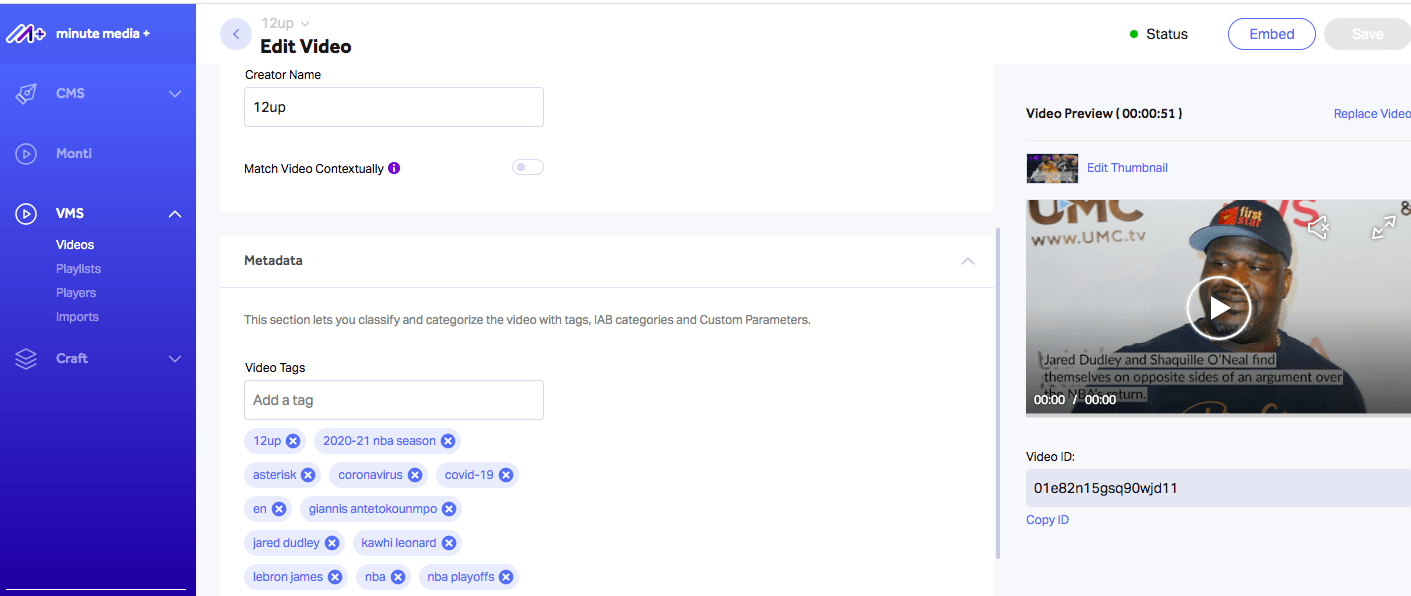 More specifically, the Dynamic playlist allows you to automatically add videos to your playlist, hands free without any hassle. By including relevant tags, videos which have this specific tag in their metadata will be added to your playlist. In addition, you're able to preview, sort videos and exclude those from the playlist with certain tags.
The Freestyle playlist gives you full control. You manually decide which of the videos will enter the playlist. Our intuitive system lets you rearrange videos in a different order by dragging and dropping them into the desired position. Our VMS also empowers you to syndicate and export your content in either an MRSS or a JSON-format.
Customize Your Own Player
We offer you the ability to fully customize our fast and lightweight HTML5 player you embed on your site. You can choose the video's playback method by specifying whether you want the video to start playing automatically, when in view, when scrolling or when clicked on within the dropdown.
In addition, you have control over the video positioning on the page as we offer you "anchoring" and "stick-to-the top" placement options. For example, you can define if you want the player to appear on the right or left side of the screen. You can also choose whether you want the user to be able to close the anchored player and the ads, or to be able to pause streaming.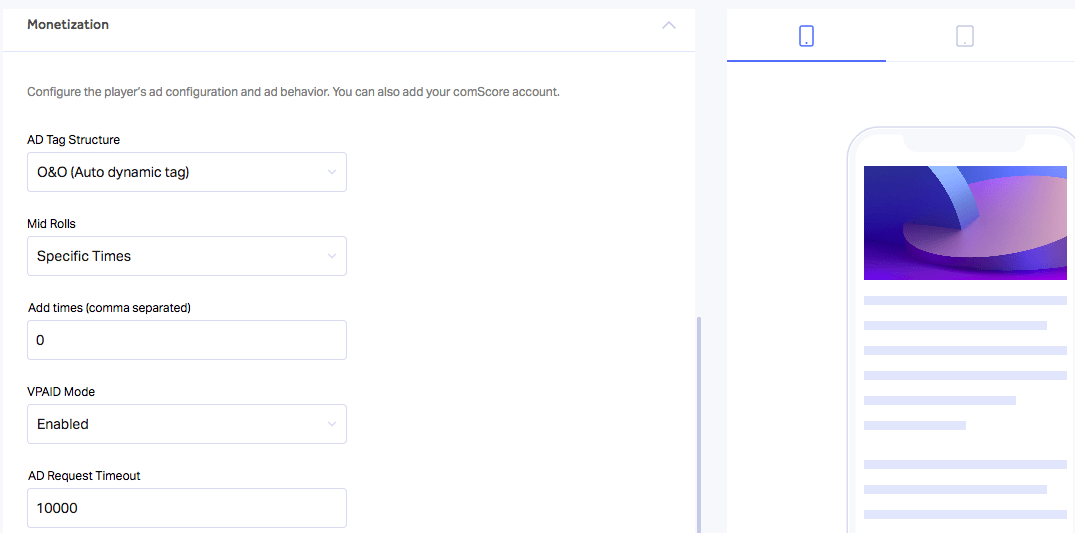 Last but not least, you are able to customize the player's look & feel and monetization settings including ad-tag structures, mid-roll timing, VPAID modes and more.
Import Content via MRSS
Our VMS not only lets you syndicate and export your own content, but moreover it enables you to import content from other sources. Here's an overview (hyperlink to content blog) of the content available to you as a partner of Minute Media.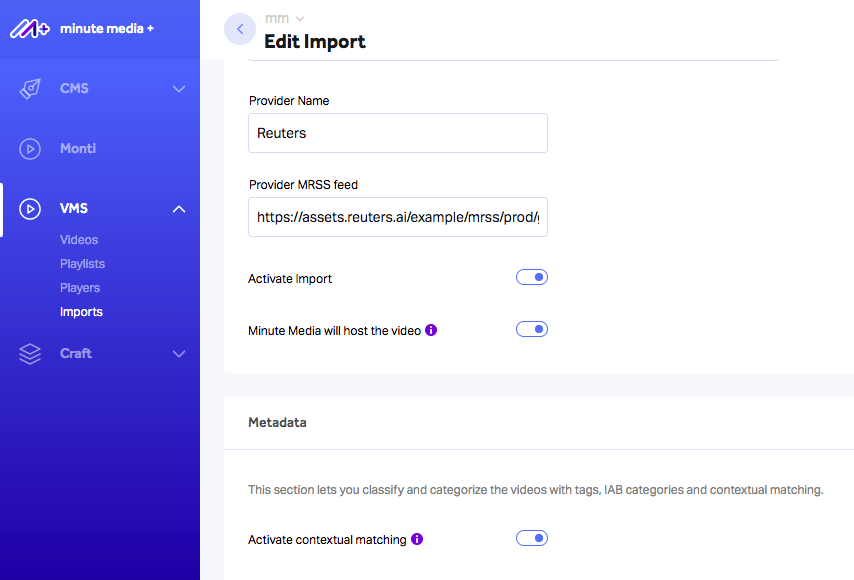 All you need in order to set up a new import or modify an existing one, is a valid MRSS feed URL. You can decide to activate/deactivate the import anytime. Note: the import will not actually start until you activate it.
Once again, we recommend that you make the best use of tags for each import. Tags are important because they enable you to enhance contextual matching results and arrange videos in playlists. Note: every tag will automatically be added to each imported video.
---
The Video Management System with all its features represents a key element of Minute Media's Online Video Platform. We hope this tutorial was helpful to you, and if you have any questions or feedback, feel free to reach out directly to your Minute Media sales representative or send an email to: PubOps@minutemedia.com.