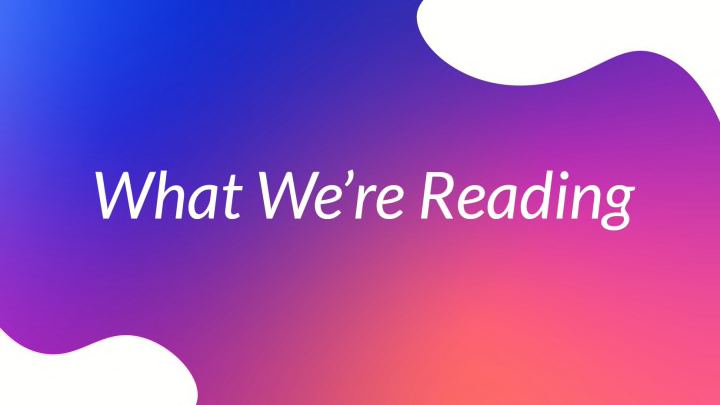 MM Tech, Media & Publishing Roundup #13
Social Media:
1.

Twitter now puts recommended tweets in everyone's feeds
Twitter has begun to suggest recommended tweets in users' Feeds alongside other content to help users discover other accounts they may be interested in following. 

With users showing mixed reactions to the latest update, Twitter showed users how to disable the recommended tweets and switch to the chronological feed.  "We'd love to hear how we can make them better! In the meantime, you can switch to Latest Tweets by clicking the sparkle icon".
Via Search Engine Journal
2.

Creators can earn money through Discord now

Discord, an instant messaging social platform, has expanded its server subscription program, allowing more creators to start charging subscription fees for premium access and perks. Creators can set their own prices on one or multiple tiers of subscriptions, offering a 90/10 revenue split. 
Via The Verge

3.

Reading between the lines of YouTube's best-performing ads for 2022

Tech companies and streamers landed in YouTube's top-10 best-performing ads in 2022, with Amazon's Super Bowl commercial taking number 1. Other ads that made YouTube's top-10 ads were Telecom Egypt, Apple, Squarespace, Hyundai Worldwide and Chevrolet Brazil. 

This is in contrast to 2019, when purposeful ads from Procter & Gamble's Gillette and food beverage brands like Doritos and Stella Artois ranked high.  
Via Marketing Dive
Streaming:
4.

Disney buys MLB's remaining stake in BAMTech for $900M
Disney + : Illustration / Chesnot/GettyImages
Disney has disclosed the purchase of full ownership of video streaming tech company BAMTech for a total of $900M after purchasing a remaining 15% stake from Major League Basketball earlier this month. Disney has used BAMTech as the main framework for what is now the ESPN+ direct-to-consumer streaming service, as well as Disney+. 
Via Fierce Video
5.

DAZN extends CTV European footprint with Foxxum partnership

DAZN's latest partnership with Foxxum will see the sports streamer expand its CTV footprint in Europe, offering live and on-demand streaming of football events such as the Bundesliga and UEFA Champions League, plus other top European football leagues. 

The streaming service will also offer a range of live sports events from the U.S. and other countries including NFL, NBA, NCAA, UFC, MotoGP and others. 
Via V-Net
6.

Global OTT TV episode and movie revenues to reach $243B by 2028

According to a new forecast from Digital TV Research, global OTT TV episode and movie revenues will reach $243B by 2028, up from $157B this year

The research company predicts that by 2028, 15 services will generate AVOD revenues in excess of $1B, including Disney+ ($8.7B), Hulu U.S. ($5.3B), Paramount+ ($4.9B), Peacock U.S. ($4.8B), HBO ($4.1B), Roku ($3.3B), Pluto U.S. ($3.2B) and Tencent China ($3B).
Via V-Net
7.

World Cup delivering record TV numbers

The 2022 FIFA World Cup has continued to make record-breaking numbers across multiple markets. In Asia, the game between Japan and Costa Rica drew an average audience of 26.37 million viewers. The English-language coverage of the USA's encounter with England on November 25th was the most watched men's football match on US television, with a peak audience of 19.65 million viewers on FOX. In Argentina, the average audience for their match with Mexico was 8.48 million, delivering an amazing audience share of 81.3 percent.
Via Advanced Television.
Advertising:
8.

Google and YouTube partner with Poynter's IFCN on $13.2 million grant for the global
Fair-goers use laptops at the US search / TORSTEN SILZ/GettyImages
Google and YouTube have undergone a $13.2 million partnership with International Fact-Checking Network to support fact-checking initiatives worldwide and reduce the harm of misinformation. 

"Expanding Google and YouTube's work with the IFCN means that more independent fact-checkers around the world will have the tools and capacity to help people make informed decisions," said Olivia Ma, Managing Director, Global News Programs and Ecosystem at Google.
Via Poynter
9.

Media Briefing: Publishers see a bump in commerce sales during Black Friday weekend despite economic downturn

Publishers went into Black Friday weekend with hesitation due to the economic downturn we're experiencing this year; however, the annual sale drove more than $9.1 billion in online sales - a new record reported by CNBC. 
Via Digiday
10.

Why HelloFresh struck an ad deal with StreamElements to reach the gaming community

To advertise directly to the gaming community, HelloFresh offered a deal with live streaming service, StreamElements, for a performance marketing campaign focused on smaller and mid-sized streamers. 

Participating streamers receive branded overlays, graphics and a unique product link that they can share with their communities. Every click counts toward the streamer's performance goals, and StreamElements only get paid when an actual purchase is made.
Via Digiday
Check out all of our previous What We're Reading Roundups at: https://tech.minutemedia.com/what-were-reading-archive