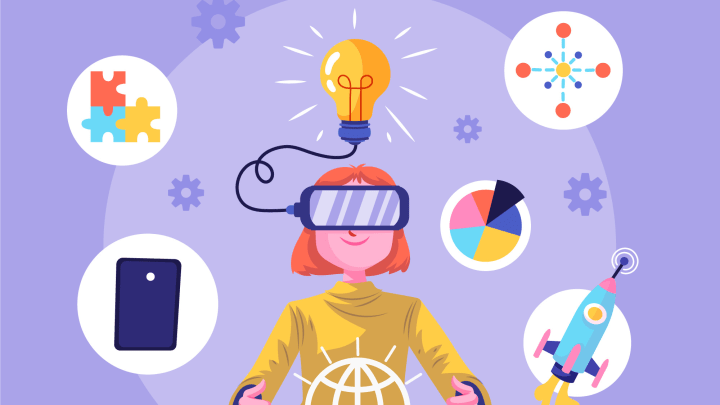 The Rise & Growth of Gamification
Before becoming a trending content strategy, we were introduced to gamification many years ago. Who can forget the legendary no-wifi dinosaur game that appears on Google when we unbearably lost connection to the internet?
Sebastien Gabriel from the Chrome design team co-created the game 'An Endless Runner' back in 2014, playing on the idea of a "prehistoric age" when we had no wifi. According to Gabriel, "there's nothing fun about getting kicked offline—unless you have a friendly T-Rex to keep you company, that is."
Google Chrome
Gamification is no longer just a buzzword; it has become truly integrated into our everyday life. 
From a Smartwatch rewarding you for reaching 10K steps today or quickly completing a few lessons on Duolingo so you don't lose your multi-day streak, small actions create a sense of accomplishment that encourages us to keep coming back. By this, we practice repetition and habit building without even acknowledging it. 
Industries around the world today are incorporating gamification to achieve a variety of results from their target audience. 
Gamification is being used in HR, fashion, consumer brands, health insurance companies, and everything in between and is set to continue its staggering growth in the coming years. Statistics state the gamification market size is projected to grow from $9.1 billion in 2020 to $30.7 billion by 2025—enormous growth, which is why everyone wants a piece of the action. 
So, what is gamification?
Put simply, it's the process of incorporating game-design elements and game mechanics into existing experiences and platforms to drive user engagement, participation, interaction, and productivity. 
Gamification uses techniques and elements such as competition, actions, rewards, points, and personalization to encourage engagement in a non-game context to help brands tap into their audience directly and ensure call-to-action.
There are three types of gamification in the market today: 
Embedded games are built into an existing app and use gamification to increase use time and retention. 
Game-based Builds create an entirely new gamified system. 
Gamified platforms build gamification on an existing platform that allows customizable gamified content and tweaks, such as Roblox Gucci Garden Experience. 
Gucci Garden/Roblox/Dezeen
When triggering that feel-good emotion of competition or completion, audiences feel rewarded, sparking loyalty to a specific brand or business. 
Games Drive Not Only Engagement, But Happiness
In this rapidly developing tech landscape, we see more organizations incorporating gamification into their business structure externally and internally.
Essentially, gamification triggers dopamine in our brain, the chemical that makes you feel good. Therefore, when the audience is immersed in a game, receiving rewards and reaching higher levels, dopamine steadily builds in their brain. Subconsciously, the brain becomes addicted to the feel-good drug, resulting in the user returning daily and automatically retaining their interest.
Some publishing brands have begun to tap into this information and use it to their advantage. The UK's leading publishing brand, The Telegraph, reached over 544,000 subscribers in January 2022, an increase of over 150,000 from January 2021 with the help of puzzles. By posting the answers on the following day's article, they drive retention habits in loyal subscribers. 
Le Monde introduced their app "La Matinale" in 2015, inspired by the notorious dating app Tinder, to attract younger audiences to subscribe. Designed to present the news in a story-like-view, readers would swipe to the articles that interested them, building a reading list within the edition. This app helped Le Monde pass 400,000 digital subscribers. 
In the video technology space, social media giant TikTok has begun to incorporate gamified e-commerce events into its thriving app after partnering with Shopify. TikTok presents the opportunity for viewers to watch a live-streamed fashion show while immediately purchasing the items, all with the luxury of not leaving the app. The craze of live stream shopping trend blew up in China initially and is now set to be worth over $25 billion by 2023.  
With the boundless power of AR (augmented reality) and Gamification, retail brands are also jumping on board to gamify their products and keep on-trend quickly. 
A fantastic example of using AR and gamification to power a marketing campaign is 19 Crimes. The company's innovative campaign brought to life characters on the wine bottles, allowing them to tell their stories when customers scanned the bottle with the application. This motivated customers to collect all 19 bottles of wine by using gamification theories. The brand partnered with entertainment icon Snoop Dogg. Think 'Pokemon Go' but adult version, genius.
Gamification is Just as Powerful Internally as Externally 
Organizations are globally investing in gamification across all things related to employees. From the onboarding process to training and development, gamification helps improve employee engagement and well-being.
When companies add features such as competition, social connections, symbolic rewards, and attractive branding, it enhances the experiences for employees, compared to what would have most likely been a tedious process. Gamification allows employees to engage with and feel a sense of belonging to a company that has a positive corporate culture, which is crucial for overall employee satisfaction and the longevity of a company in society today. 
A study shows that 95% of employees enjoy using gaming-inspired elements in their work, while another states that gamification generates roughly 300% more completed tasks. 
International biopharmaceutical giant AstraZeneca trialed a new method in training 500 employees on the rollout of their new drug. This entailed a voluntary, game-based e-learning approach focused on maintaining the fun and entertaining aspects. AstraZeneca encouraged employees to use the game by incorporating team competitions, cooperations within teams, mini-games with instant gameplay, virtual items, rewards for achievements, leader boards, and progressive levels. 
Go To Jupiter was designed by "alittleb.it", a gamification agency, and quickly became a hit within AstraZeneca. The game would result in 97% voluntary participation, completing seven of the eight proposed lessons. Even more surprisingly, many people completed this participation during out-of-office hours in the evenings. 
Examples like this one make gamification seem like a no-brainer: Why wouldn't a corporation want to make work more fun?
The Future of Gamification:
Over the next few years, we can expect to see many more gamification trends surrounding society. But what should we expect to see over the next decade? 
With the Metaverse under heavy construction, supported by tidal pools of investment, the potential it holds is undoubtedly enormous for all industries. However, distinguishing the difference between Metaverse and Gamification can be deceptive. 
As the high priests of the digital world inform us, we should view the Metaverse as "successor to mobile internet".  In a speech announcing his devotion to empowering the Metaverse, Mark Zuckerberg states, "You can think about the metaverse as an embodied internet, where instead of just viewing content — you are in it."
Subsequently, when using a VR headset, we have already stepped into an alternate reality, soon to be known as Metaverse. As this new world is still in its infancy, the opportunity to simply gamify everything is undeniable. 
Expected to command trillions of dollars in investment, the Metaverse presents a massive opportunity for gamification services and product providers, including workplace technology. In high-risk learning fields such as machinery or flight training, the use of virtual reality could be lifesaving, quite literally. For example, companies could offer lifelike technology to train new employees to eliminate the dangerous risks presented when learning to fly a plane. VR headsets deliver a highly effective form of training and allow workplace employees to communicate and collaborate in virtual reality. The ideas and potential it holds are unimaginable, and we are all on board and just patiently waiting for the ride to start. 
Diving back to our current reality, we see gamification evolve into platforms such as entertainment engine Netflix with the upcoming release of their daily interactive Trivia Quest for April.
Finding new ways to entertain and interact with their members, Netflix will be streaming one new episode daily throughout the month that features 24 questions across all categories in a multiple-choice play. The series will follow a narrative, and viewers can unlock additional animations based on accumulated points from correct responses. Netflix has been strategically building its gaming business, including their recent purchase of the video game "Stranger Things: Puzzle Tales" for approximately $72 million. Innovations such as these allow Netflix to broaden its business, modernize, and gamify its product, all assisting in attracting and retaining consumers.
Final Thoughts:
We as a society are still only at the beginning of the Gamification journey and understanding where this approach can take us. Over the last decade, we have seen it grow and evolve, and with the rapidly developing technology world, there is no indication of stopping any time soon. The competition across all industries is high, wanting to win the attention of any audience willing to play along, and with the next big gaming trend constantly around the corner, it's game on.