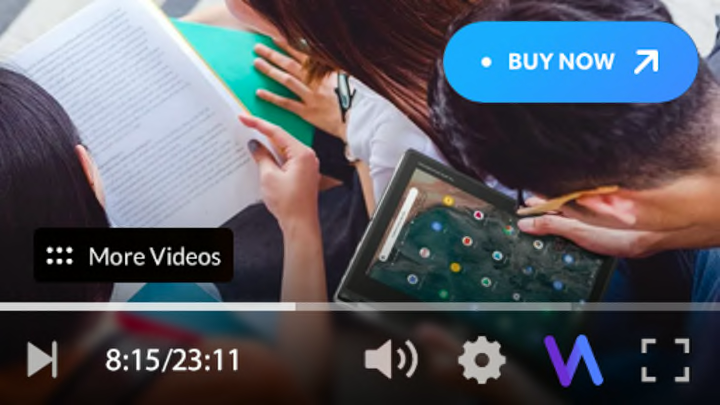 Voltax Video Refresh: Value to Publishers
It's no secret that the digital publishing industry looks completely different now than it did five or ten years ago. Constant improvements in publishing technology, sweeping changes in consumer habits, and a general shift away from traditional publishing mediums have pushed the space away from text-only content and into a new ecosystem where video and interactive content drive a successful business. 
Just about every article we see online has some multimedia element to enrich the text and make the information more engaging for the audience. According to Cisco's Annual Internet Report (2018–2023) White Paper, by 2022, videos will make up more than 82% of all consumer internet traffic, 15 times higher than it was in 2017. 
Whether you have barely dipped your toes into the video space or have been using video on your site for years, we understand the nuances of a successful video strategy and the burden high operational and licensing fees can cause on a business. Luckily, at the beginning of 2020, our team at Minute Media developed and launched an end-to-end online video platform that we call Voltax Video to help eliminate these struggles and support the publishing industry through this new era of interactive content. 
As a global digital publisher ourselves, it was essential to create Voltax Video with a publishers' point-of-view at the forefront. Voltax Video comes entirely equipped with everything from an embeddable HTML5 player to an innovative video management system and all of the monetization tools you may need to make the most of your video experience. 
Voltax Video Player
Everything about Voltax Video was developed with user experience, and a seamless 'look & feel', in mind. When the team initially began working on the player, it was necessary to perform due diligence and collect all of the relevant data that may help the production process. The research included comparing dozens of video players on the market and analyzing which features make them stand out. It also involved asking our partners and clients questions like "What is your perfect player and why?" and "What player functionalities are must-haves for your business?" 
The team decided to use an innovative plugin-based approach when building the player, which essentially unbundles all of its different key components. This way, we're able to reduce latency and offer complete flexibility to partners who want to add their design components, analytics events, or other customization elements. The results of unbundling the video player were quickly realized after internal A/B tests showed an average increase of 16% loading time and more than a 10% increase in ad impressions when comparing the first version of the player to the current iteration. 
Voltax Video Player new look & feel /
The lightweight HTML5 player ensures your site performs at a top-notch level while also allowing our team to constantly add new features without making significant changes to the player's core. 
One key element of the player we like to highlight is the different anchoring options. For example, suppose you're a publisher who generally posts shorter, easily digestible content. In that case, you may want your player to stick at the top of the page to ensure the video is always in the reader's eye line. In contrast, if your content is longer and requires the reader to spend some time on each page, it may be helpful to have the player anchored to the page's bottom whenever the reader continues to scroll down to continue reading. The ability to set the player's behavior allows different types of publishers to fully benefit from the player's viewability.
Voltax Video player anchor options /
Video Management System 
Having a technically dependable player is a solid start to your video strategy, but your video content needs somewhere to live where it can be easily managed and distributed. Included with Voltax Video is Minute Media's Video Management System, an easy-to-use user interface that allows you to upload, manage and distribute your video content intuitively and without hassle. 
The home screen, or video library, shows you an overview of all of the video content currently available in your organization. You can upload videos straight from your computer or directly from the video's URL to the video library. You also have the ability to embed, delete and customize every piece of content to ensure they have all of the correct metadata associated with the video. 
As an additional tool, you can upload videos straight from the WordPress plugin, effectively streamlining the workflow process by granting direct access to, and managing of, their video offerings. 
Feeling overwhelmed with content options? Don't worry; we have developed advanced search and filtering options that allow you to sort by upload status, tag, duration and date range. Our VMS empowers you to maximize transparency within your organization and improve contextual matching results by giving you complete control over each video's basic information and metadata. 
Also included in the VMS is the ability to create and manage three different types of playlists: Dynamic, Freestyle and, Semantic. Dynamic playlists allow you to sort content according to the tags in the metadata, allowing you to add videos to the playlist automatically without any hassle. The Freestyle playlist gives you complete control over your content, allowing you to manually pick and choose which videos are most relevant to the content. 
Arguably the most exciting playlist option of the three is the Semantic playlist. Semantic playlists utilize Minute Media's contextual matching algorithm to directly tailor the playlist to the page's content. Users can manipulate the algorithm within the VMS to ensure it's providing the most relevant content on every page. When creating a Semantic playlist, the user can emphasize certain tags or 'Preferred Tags,' and the algorithm will give more attention to these topics when creating a playlist. Using 'Exclusive Tags,' the user can narrow down the pool of videos the algorithm can choose from, effectively removing anything irrelevant from sneaking into the playlist. Semantic playlists tie all of your site's content together by finding relevant videos to complement the page's standard text. 
Part of managing your video content is determining how and where people can view your content. Companies sometimes want their content viewed as many times as possible, like in marketing and advertising materials or social media posts. In other situations, a brand may be providing premium content and need to ensure they can set the rights and restrictions over each asset. 
Publishers and content providers rely heavily on their intellectual property to drive their overall revenue, but most publishers' IP is the same content they want to distribute and monetize. This poses a unique challenge and forces us to ask the question: How can we protect our content from unauthorized use without compromising the speed and quality of the distribution? 
While the answer may seem complicated, it begins with a modern Digital Rights Management (DRM) solution. Here at Minute Media, the team has taken the time to build our in-house solution that works in tandem with the Voltax Video player to help you feel confident your content is always safe and secure. 
Within Minute Media's Online Video Platform, customers can access the user interface and set the rights and restrictions for each piece of content to ensure the intended user only views it and the company's revenue is maximized. 
Content & Recommendation
Once you're all set up in Voltax Video, several exciting features help you grow your audience and achieve higher engagement. Everyone in the publishing industry understands that content is king, but fewer people identify the importance of context. 
Long gone are the days when a basic video offering was enough to lure new partners to your platform. Standing out in the crowd has become increasingly tricky due to the endless amount of content users can decide to consume. Today's publishing climate requires brands to get creative and deliver personalized experiences to each reader on their site. 
Learning from our experience working with multiple brands, we understand publishers have differing needs, and we try to cater to them. Thanks to this experience, the team at Minute Media has developed the previously-mentioned contextual matching algorithm. In short, the algorithm scans and analyzes several layers of data, including the image, title, text, and tags, and automatically cross-references it against videos available in our video library. 
"Our algorithm delivers tailor-made video content by matching the most relevant video from our rich library with the article."

- Minute Media Product Manager
Multiple studies have been conducted showing how related video content increases time spent on-page and user engagement. In contrast, irrelevant videos distract users and ultimately tempt them away from your site earlier. When crunching the numbers, we can see that users across our platform are twice as likely to engage with the video if it has been matched contextually.
Despite being proven to increase KPIs across your publishing brand, not all companies have the resources to produce engaging and visually appealing video content. To provide you with the best possible experience, we have developed a fully automated tool that allows you to boost your content offering by converting existing stories into captivating videos. 
Minute Media's recirculation tool automatically reformats existing editorial stories into engaging video experiences by converting an RSS feed into a templated video file. The contextual algorithm then matches this video to the relevant articles on your partner site, improving the value of each page it presents on. 
In addition to the recirculation tool that automatically creates video content for your brand, once integrated into the Voltax ecosystem, you have access to more than 500,000 premium videos covering a wide range of topics, including news, entertainment, politics, sports, lifestyle, and more. 
With all of this new content available to you, we hope to ease the burden of transitioning to a video-centric publishing strategy, ultimately leading to more revenue in the long run. 
Forging Ahead
Looking ahead to the future, the team plans to continue expanding Voltax Video's capabilities to integrate with new forms of content ingestion, more interactive video experiences, and countless additional features to help you increase your reach and revenue. 
Minute Media is committed to pushing the boundaries of what's believed to be possible in video technology and bridging the gap for ambitious content creators to amplify their content via video. 
While the team has spent countless hours adding all of the exciting features to the player, it's important to note the simple onboarding and integration process of Voltax Video. In less than a day, our team can create the number of relevant players you require and seamlessly integrate them into the various parts of your domain. There is very little technical work for you to do to begin optimizing your content with video. 
For more detailed questions, feedback, or suggestions regarding Voltax Video, contact your account manager or send an email to PubOps@minutemedia.com.